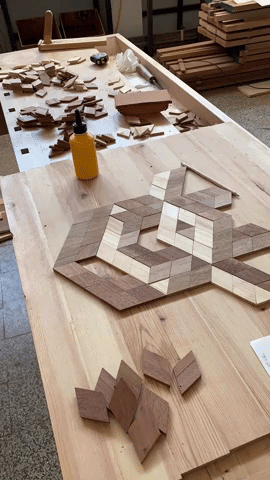 When we started we had some wood that we've collect from the street, basic equipment for woodworking and big desire to create something new.
​
We understood there is not many options what we could make from discarded wood with tools that we had for that moment, so we tried to create something with a little module-detail, since we could get it from almost any piece of wood that came across. An isometric grid and this module allowed us to create an infinite number of three-dimensional designs on the plane, forming our visual language.
​
The production of each panel begins with the preparation and processing of recycled wood into details and bases on which we glue the details. For this we clean old wood from nails and debris, remove paint and make sure that all the sides of the wooden piece are straight and have the thickness that we need.
​
Next step is cutting details on the laser cut and the base on CNC, after we sand the edges of the details by hand and assemble them into previously designed image. We install a holder and pack a panel in specially designed for it box, cut on laser cut from the second-use cardboard.